This Halloween, let your creativity run wild with enchanting dazzling floral arrangements and gifts.
The perfect time for floral arrangements and gift-giving is during Halloween. If you are looking for spooky delights or charmingly eerie surprises, exploring florists in Conroe Texas can offer a wealth of Halloween party ideas. In this blog, we'll take you through a bewitching world of Halloween bouquet ideas, plant arrangements, and more. These ideas are all available around you at Halloween.
Flowers for a Frightfully Fun Halloween
Jack-o-Lantern Bouquet
One of Halloween's iconic symbols, the pumpkin, can serve as the base for a spooktacular flower arrangement. Hollow out a pumpkin, add a vase inside, and fill it with a vibrant bouquet of fall blooms. This Halloween flower arrangement adds a touch of whimsy but also captures the essence of the season.
Wickedly Wonderful Witch's Hat
Transform a witch's hat into an elegant and whimsical vase for your Halloween flower bouquet. Secure the hat on a stand or flat surface, add floral foam, and arrange fall blooms inside. It's an unconventional and enchanting way to embrace Halloween.
Black Roses with a Ghoulish Glam
Break away from tradition with black roses. While black roses don't naturally exist, they can be created using floral dyes. These Halloween roses make haunting centerpieces when paired with dark foliage and eerie accessories.
Terrifying Halloween Flower Gifts
Succulent Skulls and Plant Pots
Incorporate Halloween plants into your gift-giving with succulent skulls or plant pots. You can enjoy this low-maintenance, charming mini gardens long after Halloween with spooky accessories like skeletons or tombstones.
Floral Delights with Pumpkin Spice
Embrace fall flavors with a gift basket that includes a pumpkin spice candle, seasonal treats, and a beautiful fall-themed bouquet. This delightful combination that you can get from Conroe flower shops will warm hearts and evoke autumn.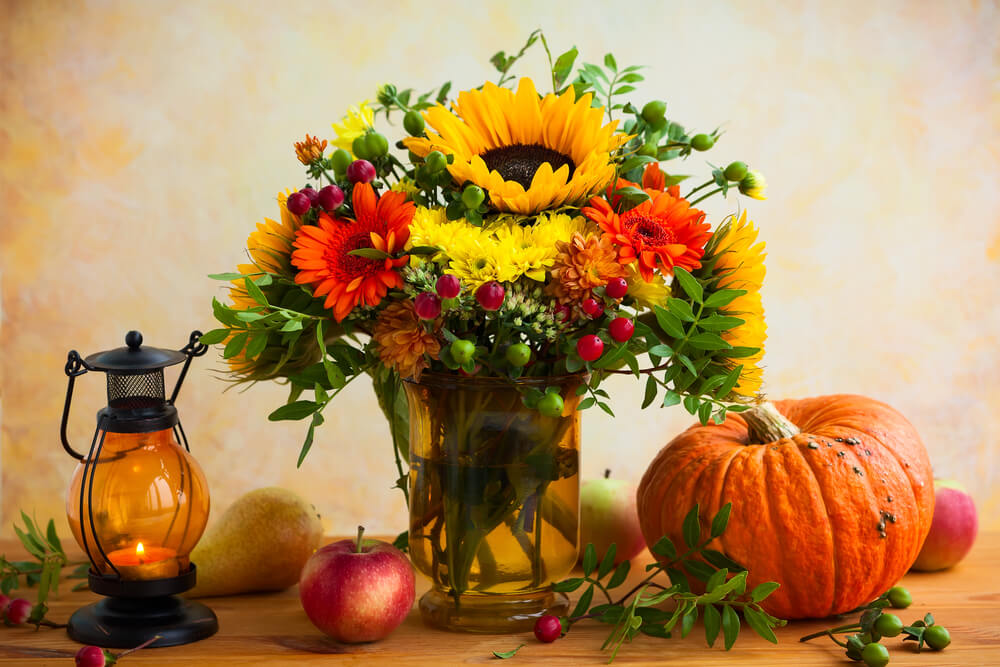 Halloween Flower Arrangements for Every Room
Eerie entryway ambience
Welcome trick-or-treaters and guests with a dramatic Halloween flower in your entryway. Make an unforgettable first impression with black feathers, deep purple blossoms, and glittering spiders.
Haunted dining table
Elevate your Halloween dinner party with a spine-tingling centerpiece. Consider an arrangement that combines orange roses, dark calla lilies, and deep red dahlias. It is accented with candles and strategically placed spider webs to set a spooky mood.
Wickedly Whimsical Workspace
Bring Halloween to your workspace with a playful floral arrangement. Order flowers Conroe to create a cheerful and creative atmosphere and get a mix of orange gerbera daisies, mini pumpkins, and black cat figurines added.
Wrapping gifts with a Halloween twist
Spellbinding Wrapping Paper
Choose wrapping paper adorned with spooky motifs like ghosts, witches, or bats to add charm to your Halloween floral gifts.
Glow-in-the-Dark ribbon
Swap out regular ribbon for glow-in-the-dark ribbon to give your Halloween flower gifts an enchanting glow during the witching hour.
Order Flowers for a Boo-tiful Halloween
Customized Halloween Bouquets
Many florists offer customization options for Halloween bouquet. You can send Halloween flowers after selecting specific flowers, colors, and spooky accents. This will create a one-of-a-kind gift that perfectly suits your recipient's taste.
Same-day flower delivery
If you're running short on time or have a last-minute Halloween gathering to attend, try flower delivery in The Woodlands TX. Many florists offer same-day delivery services, ensuring your Halloween surprise arrive on time.
This Halloween, let your creativity run wild with enchanting dazzling floral arrangements and gifts. Sending a bewitching bouquet or transforming your home into a haunted haven is just a few ways to celebrate Halloween. Take a look at bakersbouquet.com and let your imagination soar as you create the perfect Halloween gifts for your loved ones.